Sneakers can be dirty, really dirty. 
And the problem with cleaning dirty sneakers in Pakistan is that the imported cleaners are too expensive and not everyone can buy them. 
Not fair, not fair at all. 
What is a common layman supposed to do who has no time to figure out the tips and tricks all these fancy blogs mention? With our busy routines and limited time, who's going to sit and clean all those sneakers with your fancy cleaning methods? Uh? 
The picture above is a mini heart attack man.
But have no fear, your Girl Nine sister is here! After trial and error and testing and failing, I have come up with a fool proof method of cleaning up sneakers and making them as good as new. 
Without further ado, let me walk you through the process of making your sneakers shine. 
STEP ONE: Know thy enemy
Determine the source and the kind of stains. Did you walk through an oil field? Did you spill a cup of tea on your sneakers? Did you play football or did you step on dog poop? (EWWWW what's that smell!!!) All of this will help you fight each kind of stain with the right kind of cleaner. 
STEP 2: Get your weapons
Once you know what you are up against, it is time to gather your ammunition. For poop, and other stuff that just won't get off, get WD40. Yes, you heard me right. WD40 is a MIRACLE and it should be in every home.
For dust, tea and other stains, go for bleach, washing powder and kala sabun. Sorry I don't know what it's called in English. 
STEP 3:  FIGHT!
So you have to go about this very systematically. First remove everything that you can with a wet cloth. Once done, in case of dog poop for example, spray ample amount of WD40 and let it stay for a while. After 15 minutes, clean your sneakers with a wet cloth again and all the literal shit will come off. 
In case of mud, tea or stubborn stains, mix bleach and washing powder in a little water and leave the lather on for a good 15 to 30 minutes depending on how bad the stain is. Be careful about using bleach on cotton uppers and decrease the ratio of bleach for colors which you feel are not fast. 
For stubborn stains, just go ahead and use the kala sabun. IT IS A MIRACLE AND IT NEEDS TO BE IN EVERY HOUSE. YES. It will clean everything from stubborn floor stains to burnt utensils and even your dirty sneakers. It is just great. Mix kala sabun and water and apply the semi solid mixture on your shoes. After 20 to 30 minutes wipe it off clean and your sneakers will be as good as new. 
Simple and cool, isn't it? 
Once done, dry your sneakers in the sun and you are ready to go.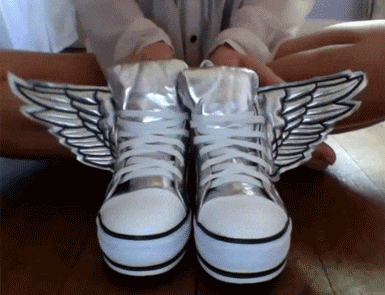 So guys, this is the best method to clean dirty sneakers in Pakistan. These will surely help you remove all the unwanted stains from your shoes. Go ahead and give it a try. If you are looking for good light indoor and outdoor sneakers for winter, head over to our sneakers page and check them out. 
Shop from Girl Nine's quick delivery, easy exchange, and free shipping facilities with outstanding customer service!